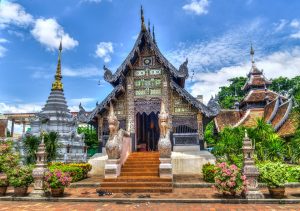 Have you ever wondered where Paradise is? If you want to narrow down your options, Thailand would definitely make it to your list. There are many reasons why you should travel to Thailand at least once in your life. Most importantly, the amazing beaches of turquoise waters and endless stretches of silky sand! Have you ever watched "The Beach" with Leonardo di Caprio? If you haven't, do yourself a favor and check it out! You will be blown away by the sheer beauty of the island near Phuket, Thailand!
Main Attractions in Thailand
One cannot stress enough the beauty of the beaches in Thailand, right? But enough of that! When you visit the place, you will spend all your days soaking under the sun and diving in the transparent waters. But in between your dives, you might be tempted to visit some of the major attractions in Thailand. First of all, there is the Grand Palace. A place of exquisite beauty and extravaganza, ideal for taking pictures!
The Damnoen Saduak Floating Market is a place that you either love or hate. It is the local market, where you can find extremely affordable food and local products. Literally, the shops are floating boats and the water will not excite you that much! Then, if you are at the center of Bangkok, you might head to one of the abandoned skyscrapers to have a climb till the upper floors and enjoy the view. The name of the skyscraper is Sathorn Unique Tower and it is worth ascending there!
Khao Yai National Park is a place of formidable landscapes, offering unique experiences to travelers. This is where you are going to enjoy rainforests and impressive animals, such as bears or elephants. It is definitely exciting! Wat Arun is a Buddhist Temple dedicated to Aruna and is one of the most beautiful places in Thailand. Do not forget to visit!
As far as activities are concerned, Thai street food is epic! Especially if you enjoy Oriental food and you are in for a spicy treat, go ahead! Then, find some time to relax over a soothing Thai massage. You will remember it for the rest of your life! Apparently, there are many other things that you can do. However, you should be warned! Things in Thailand can get a little bit too wild for the faint-hearted. Its vibrant nightlife and the marvelous attractions afterhours are not suitable for everyone!
Other than that, Thailand is an exotic Paradise and you should schedule your visit sooner than later!